HVPE uses a number of Key Performance Indicators ("KPIs") that seek to support its investment objective.
Below shows the Company's progress vs. its KPIs for the six months to 31 July 2021. For more commentary, please see our Semi-Annual Report.
(1) NAV Per Share Growth
+
22.60
%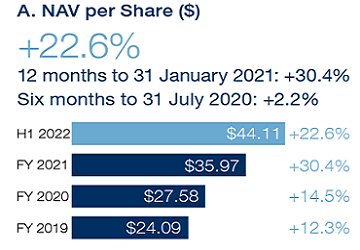 HVPE seeks to achieve growth in NAV per share materially ahead of public markets over the long term, as defined by the FTSE All World Total Return ("FTSE AW TR") Index in US dollars. The FTSE AW TR is a global equity index with geographical weightings comparable to HVPE's portfolio.
(2) Total Shareholder Return
+
20.30
%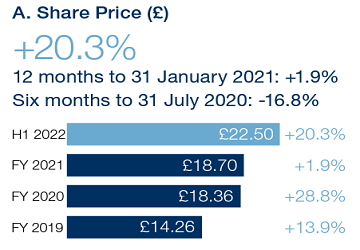 The key measure of HVPE's performance is ultimately the total return experienced by its shareholders. While NAV per share is the major driver, the level of any premium or discount to NAV at which HVPE's shares trade is also important.
(3) Balance Sheet Strength
148
%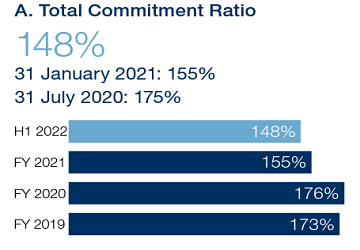 The Board and the Investment Manager actively monitor HVPE's balance sheet by means of a set of key ratios, with a view to maintaining a robust financial position under all plausible forecast scenarios.
(4) Liquidity in the Shares (Daily Trading Volume)
+
22
%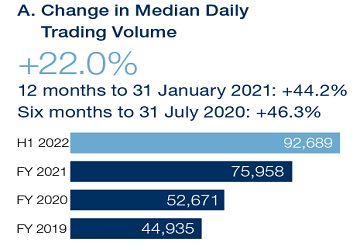 Current and prospective shareholders rightly place a high value on liquidity as it provides reassurance that there is a ready market in the shares should they wish to manage their position. The Board and the Investment Manager monitor liquidity on a regular basis using two daily averages: the median and the mean.
Disclaimer: The value of your investment may go down as well as up, and you may not get back the amount you invested. Please bear in mind that past performance is not a guide to future performance.